The use of technology in early childhood education have a transformative effect on the way children learn today.
When integrated, ICT can create an adjustment in learning by which there is a shift from looking at ICT as an end in itself towards an understanding that technology can be used as medium for all kinds of learning.
LEARN ALSO ABOUT:
Technology and Project based learning in early childhood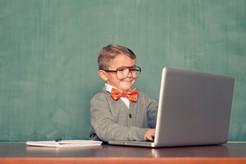 How Technology transforms Inquiry Based Learning in Early Childhood
Here are just some ways highlighted by Pahomov (2014):
1. Shifting the emphasis from content to skills
Content-based skills is practiced through memorization which will only work when applied on a regular basis. The use of ICT shines a light on this weakness as it makes the basic content easy to access.
2. Allowing for constant engagement
Cconstant access to information means that there is constant engagement by children. This leads to more time for children to practice and create information and it enhances the education when the curriculum capitalises on it.
3. Democratizing learning
ICT can achieve this in several ways. Firstly, it allows for infinite possibilities for learning inside a classroom due to the use of the Internet and this is great for the curriculum.
As an educator, you must then aid and assist children for their own quest for knowledge.
Then there are ICT integrated curriculums that also shifts towards a more democratised classroom setting as they break away from traditional one-on-one approaches and allows for children to communicate in the way that is common online.
4. Connecting to the real world 
Connectivity is everything today and we have already highlighted how ICT helps children learn outside the classroom about their own interests. The Internet is largely responsible for this as it has infinite possibilities to explore topics and look for information at any time of the day.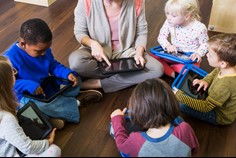 The Framework
When you integrate ICT in a meaningful way into an inquiry-based classroom, your classroom will benefit from the transformations just described.
To achieve this you need a framework that is "solid in its approach towards teaching and learning, but leaves room for educators to adapt technology to their subject area and teaching style" (Pahomov, 2014, p. 21).
The core values of this framework are:
Inquiry;
Research;
Collaboration;
Presentation;
Reflection.
Inquiry in ECE
Inquiry-based pedagogies is the best teaching strategy that you can use as a teacher when it comes to using ICT/technology.
You must always identify any pedagogy that will support student engagement and using those that helps students to engage in technological activity is ideal for this.
To achieve this, you must first identify the needs and opportunities through designing and implementing responses in addition to evaluating the outcomes.
As an effective early childhood educator, you must always engage children in a variety of activities.
Inquiry pedagogy is the signature pedagogy for STEM education along with ICT/technologies education.
According to Albion et al. (2018, p163), "the alignment of the characteristics of signature pedagogies with inquiry as an approach suitable to STEM education" found evidence of the deep structure of inquiry within the US national guidelines for science education.
It consisted of five essential features:
Learners are engaged by lessons framed around a big question based on a real-world problem;
Learners gather data and explore ideas related to the STEM content of the big question;
Learners formulate explanations and construct an artefact to represent findings;
Learners evaluate their explanations against expert opinion;
Learners present and justify their artefacts to teacher and peers.
To deliver a good inquiry-based instruction, you need to include choice, personalisation, relevance, empowerment and care. The components of this framework include:
Identify the essential questions for learning – this means using a hook to engage children when the materials are introduced and identifying meaningful lines of inquiry that will thread throughout the entire unit or project.
Identify what students need to learn – define what skills and content the children must master in the curriculum, subject and standards. The trick is to identify where children will have the freedom to construct inquiry on their own;
Build a flexible framework for assessment – children need a means of assessment and feedback that is flexible without being vague.
Model inquiry on a daily basis.
The effects of inquiry based learning
Inquiry based learning impacts your classroom in several ways. According to Henderson and Romeo (2015), these are:
Highly structured and use scaffolding to reduce cognitive demand and support learning in complex domains;
Along with the content knowledge that children will receive, the constructivist pedagogies addresses other important goals in early childhood education such as dispositions for lifelong learning and soft skills such as collaboration and self-directed learning;
It is possible to develop both essential knowledge of content and the attitudes and skills used to apply them
ICT Pedagogical Approaches in Early Childhood - Online Teacher Workshop
Accredited Online Early Childhood Teacher Workshop.
Completing this course will contribute to 5 hours of NESA and TQI registered PD in 2.6.2, 4.5.2 and 5.1.2 of Australian Professional Standards for Teachers towards achieving Proficient teachers accreditation.