Research has indicated that the most successful schools which used effective teaching strategies with technology in the classroom were capable of developing ICT capability and ICT literacy among their students.
Here are some of the best teaching strategies with technology that you can start using today.
Successful Teaching Strategies with Technology
Provide them with meaningful ICT activities
The most effective way to develop students' ICT capabilities is to provide them with meaningful activities, embedded in purposeful subject-related contexts. "For example, rather than teaching children how to use a database, a knowledge of database principles and processes and the skills required to enter and manipulate data, can be taught through using a database to help the children learn something useful about a subject" (Bennett, Hamill, & Pickford, 2007, p. 48).
Be clear about the nature of learning progression in ICT capability
Don't just teach more ICT techniques for your own sake and give students more sophisticated software, provide them with tasks with increasingly required sensitivity to information, sophisticated decision making, knowledge of available ICT tools and accuracy in evaluation.
Develop students' ICT capability when you know you will be using ICT in your teaching
Be aware that the use of a particular software would demonstrate or explain aspects of a topic more clearly to students. Then draw the attention of the students to your reasoning behind the approach used.
Set clear expectations
Question the whole class or group prior to activities using ICT to clarify your expectations, focus students on what they are going to do and generate ideas about how they might go about it. Identify when it is helpful for students to plan their work first on paper so that they would have clear view of a layout of a document or the structure of a database for example.
Make your choices explicit through questioning and discussion.
Provide pre-ICT activities
If you are going to give them a highly structured task it is best to ensure that the students have the opportunity to use those techniques subsequently in more open tasks in which they can make decisions about the choice of techniques
Recognise that ICT activities usually have more than one learning purpose
Combine the ICT and other subject issues in your discussion and questioning of the class or group when integrating ICT into your thinking about other subjects.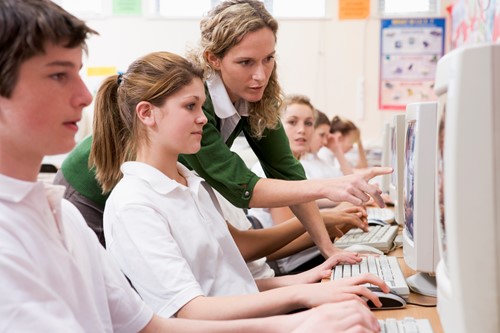 Change your role as a teacher to a facilitator
Move systematically around the room monitoring and intervening when appropriate or when you noticing students pursuing an unfruitful or inefficient strategy. Draw their attention to the issues using focusing questions, rather than taking over the mouse or keyboard.
Become familiar with at least one piece of software the students will use
This will not only make you aware that the software may not perform as expected, but also will inform you of any potential difficulties the students may experience. In these cases, make contingency plans to ensure that students were able to pursue alternative tasks.
Establish a starting point for a child's learning journey in ICT capability
Even you had received shared information from the previous year level teacher of the student in relation to the capabilities in ICT, set up small ICT activities which ICT techniques that you would expect students to know. Monitor and track their progress to ensure that you individualise their learning progression.
Other successful teaching strategies with technology in Primary school includes:
Whole class teaching with a large screen.
Students working independently on structured tasks at different rates using help sheets.
Students working individually or in groups on extended projects involving planning, reporting and evaluating.
Manual tasks which represented the concepts involved in an aspect of ICT such as database structures or giving instructions in sequence.
Whole class teaching on the context and activity.
Detailed explanation to each group when its members are ready to work on the activity.
Careful choice of pairs to work the computer in turn.
A review of key points with each group afterwards.