It is that time of the year when teachers like yourself are busy ensuring that every one of your students is up to scratch and be where they should be. Some of you might already by writing reports or thinking about what you are going to comment on. For Year 6 teachers, it is a time when you reflect on your teaching and learning with ICT in your classroom and determine how far your students have come in their ICT capability in order to prepare them for their transition into secondary school. In my previous articles, I discussed the expected level of ICT capability students are expected to exit primary school when it comes to word processing skills. However, there is more than one software which students would have used throughout their primary education.
While word processors is the most commonly used software by students spreadsheets, presentation software and publishing software are also used. Year 6 students need to be ready digitally in these skills so here is my advice on the ICT techniques students need to exit primary school with (Howell, 2012).
Spreadsheets
It is essential that students first know how to save documents, save them in different formats and know what these formats mean. The use of spreadsheets will also help with their typing skills and should be able to send documents to the printer to print. By end of primary education, Year 6 students should be able to exit with the following skills:
Setting up columns, changing column size, inserting or deleting rows and columns;
Using basic formulas like AutoSum and functions;
Changing font size, colour, type, designating a label to font (for example, heading), wrapping text;
Inserting a pivot table and understanding what tables are used for, converting data into a graph and knowing what the different types of graphs are used for;
Inserting an image, clip art, shape, smart art;
Modifying margins and orientations, inserting titles.
Information Literacy skills
There is no doubt that throughout their secondary education they will be in need of advanced web searching skills. For this reason, ensure that they are up to speed in this regard. The skills Year 6 students need to know include:
Practical skills – Boolean operators and truncation (high level); knowledge how to read URLs (what is the difference between 'http', 'https' and what does 'www' mean; searching techniques – how to limit the results;
Critical skills – involves understanding domain names; evaluating the quality of websites.
Presentation software
As with spreadsheets, typing, saving documents and printing them are essential. By the end of their primary education, they need to know:
How to select a layout, insert new slides, slide formats (selection and changing them);
How to change font, font size, colour, bold, italics, justify, insert bullets, numbered lists, indenting, slide orientation;
How to insert a table, image, clip art, smart art, graphic movie, sound file, hyperlink;
How to design your own slide design;
How to use animations – selecting these carefully so that they support the presentation and not distract from it;
How to create handouts and notes pages.
Publishing software
The publishing skills students should exit primary education with includes learning the following techniques from MS Publisher:
How to select a publication type – from the template list, then the different formats and variations of each template;
Understanding the language associated with publishing, for example, 'perforation', 'template', 'flyers';
How to determine the best layout – the strengths and weaknesses of each design;
Selecting font schemes;
Selected a colour scheme from a preselected list;
Understanding page objects, for example, mailing lists, logos, logo sign-up forms and response forms;
How to insert images;
How to change the template.
These skills learnt in publishing should build upon those learnt in the use of word processing.
Teacher Knowledge of ICT Resources
For yourself as a teacher, it will be more important for you to be knowledgeable of one program that your students use than to have an acquaintance with a large number. It is better for your students to work with a small number of versatile programs and progressively develop their skills and confidence in these through carefully structured literacy activities. You need to reflect on the processes it helps the user carryout and the techniques with which particular effects can be achieved.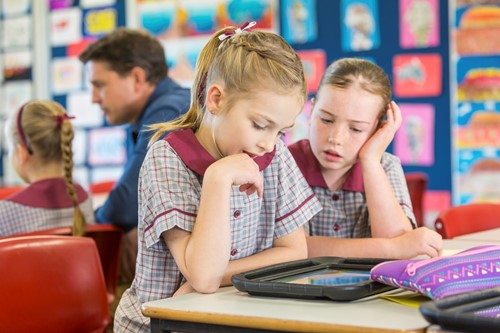 Online Course for Teachers: Teach Literacy-ICT Integration Effectively Today
Completing this course will contribute to 8 hours of PD addressing 2.5.2, 2.6.2 and 3.4.2 of Australian Professional Standards for Teachers towards maintaining Proficient teacher accreditation in NSW and Victoria.
2.5.2 - Literacy and Numeracy strategies;
2.6.2 - ICT teaching strategies;
3.4.2 - Selecting ICT resources.