When technology is integrated into the early learning environment, its aim must be to remain transparent in the background whilst supporting subject learning.
In fact, young children must be so engrossed with trying to achieve the task using technology that they hardly notice they are using it at all.
At the same time, the development ICT capability embeds its application to meaningful tasks. The most effective way to develop a child's ICT capabilities is to provide them with meaningful activities, embedded in purposeful subject-related contexts.
So meaningful technology integration in the classroom is truly about ensuring about using the right technology for the right reasons.
LEARN ALSO ABOUT:
How to involve parents in technology integration planning?
11 Ways to Plan for the Integration of Technology integration in Early Childhood Education and Care
What is technology integration in education?
Simply by exposing young children to ICT tools in early childhood education and care is not sufficient to enhance learning and develop their ICT capability and ICT literacy.
Integrating technology is not straightforward.
It involves being able to imagine the potential of particular technologies for learning within the contexts in which it will take place.
Additionally, it is about taking the risk of experimenting with ICT in the early learning classroom.
And is concerned with the 'here and now' of the available technologies.
It is NOT to do with waiting for the next big technological development to come around that will potentially solve the problem of integrating ICT into teaching and learning.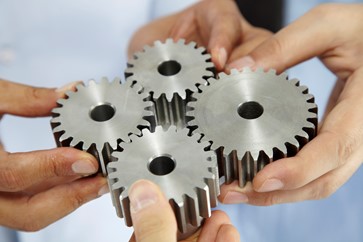 Why integrate technology in the classroom?
Enable children to learn and find out about the uses of technology in their everyday lives - You should encourage young children to observe and discuss the use of ICT in the environment on local walks.
Enabling children to recognise ICT products as tools - Like every other tool we know, they are designed to be applied for a particular purpose. Not designed for continuous use for their own sake!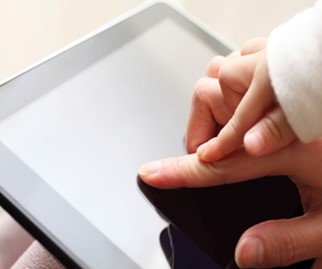 Technology Integration Examples in Early Childhood Education and Care
Here are technology integration examples in early childhood learning settings:
Classroom Environment
All meaningful technology integration should begin with a close look at the learning environment. The majority of ICT activities are quite simply practical ones.
So it is important that you set the classroom for not only the effective use of technology for learning but also in such a way that it enables you to employ good formative assessment in early childhood learning environments.
Your classroom should also display the end product of ICT activities such as digital photographs of children and their families or the children's block building work during the year for example.
Another example is setting up a multimedia centre where young children can work individually and collaboratively on writing and publishing nonfiction books inspired by their recent discoveries.
A research centre where early childhood teachers can guide young children in small groups how to research things on the Internet using keywords which they worked out together.
Whole Class Activity (UNESCO, 2010)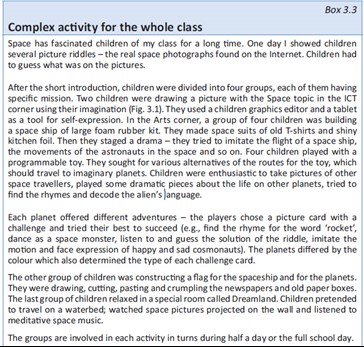 Meaningful technology integration means much more than using computers and child-friendly software in specialised areas.
It is do with developing their capabilities in ICT, their ICT literacy; and using technologies such as still and video cameras, mutlitouch mobile devices, interactive website, graphics and office applications and many other devices.
Throughout my blogs you will learn the best way to accomplish this in your early childhood learning environment and gain an insight into what my accredited online workshops for preschool teachers is all about.
It is not just for preschool teachers though, it is for kindergarten teachers and early years Primary teachers as well as for principles in early childhood education and care who want to start the process of integrating ICT into teaching and learning.