Safety Concerns about ICT use In Early Childhood
Today, while the use of ICT in Early Childhood Education seems to be picking up momentum, there has a growing emphasis on the needs of early childhood teachers making it one of their goals to become aware of safety and ethical issues that surround its use.
No doubt, there are risks involved when integrating ICT into teaching and learning and these just don't include learning risks. The key issues that entail what occurs when children use ICT tools for learning have more to do with:
Harmful physical effects.
Children's cognitive development.
Potential negative impact on social development.
Exposure to unsuitable and inappropriate content.
Possibility of computers displacing other learning and play activities.
Despite these concerns, there is not enough clear evidence that they pose a risk to children. Having said that, it is crucial that early childhood teachers are aware of them in order to safeguard children's health and development.
DON'T HAVE TIME TO READ THIS NOW.....SUBSCRIBE NOW AND DOWNLOAD THIS EBOOK FOR LATER!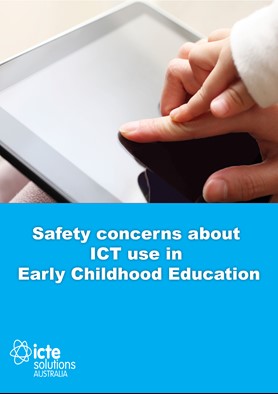 Harmful Physical Effects
Injuries such strain, eye fatigue and posture effects today are mostly related to adult extended use of computers. Despite this, it is best to be well informed about the most appropriate ways to use ICT in Early Childhood Education.
The general health and wellness of children's use of ICT should be a main priority in their learning about using ICT. Therefore, it should form part of your centre's or school's health and safety policy.
While children's use of computers may be highlighted a lot in literature, other concerns such as the radiation emitted by wireless ICT technologies is of little mention.
The use of appropriate furniture has also become an issue in addition to suitable lighting, safe arrangement of the computer corner and principles of ergonomics.
It is important that while learning about ICT in their world, that children learn how to manage their own space and selecting the right tools to use while sitting at the computer.
"It is important that, while learning about ICT in their world, children also learn how to manage their own space and select the right tools to use when sitting at a computer."
(Siraj-Blatchford & Siraj-Blatchford, 2003, p. 21)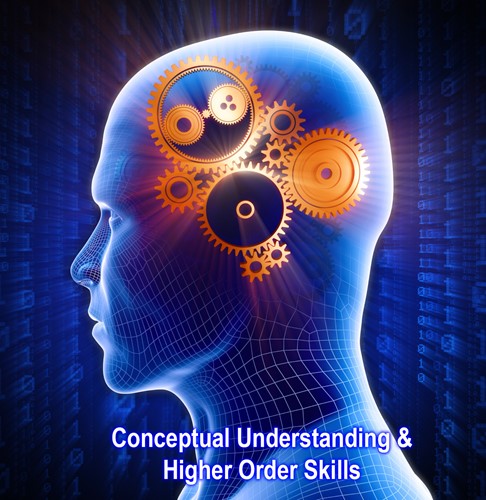 Cognitive development
Another issue which has been brought up in literature is that of the cognitive development of children with ICT.
These concerns have been linked to thoughts of software developers targeting young children, their parents and even early childhood education teachers and centres with "educational" games that might not be educational or appropriate to children.
However, use of computers does not have to mean unsupported, low level drill and skill exercises. The importance of not using 'drill and practice' programs has already been discussed in other articles.
Computers can be integrated well into socio-dramatic role plays if it is in a carefully structured learning environment.
Additionally, by intervening sensitively and being knowledgeable about it, you can help children to learn about ICT and through ICT in ways that are appropriate and meaningful.
In this sort of context, social-interactions such as working cooperatively and collaboratively offer an important learning mechanism. With ICT, this could involve a child teaching another child how a piece of technology works, resulting in learning for both children.
The role play environments have been said to be a significant area for this to occur. When you intervene as a teacher, it could have a significant impact on their ICT capabilities in addition to being able to challenging them intellectually.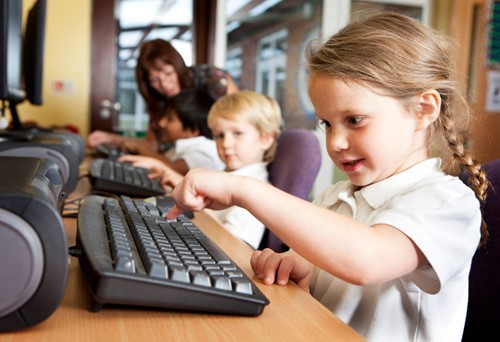 Social Development
As with cognitive development, there are also grave concerns about the risks that are involved. 
You need to understand as a early childhood teacher that these stem from children playing computer games a long time by themselves. 
However, this doesn't just happen at preschool but also at home. And as in this case, it is the responsibility of parents as well as early childhood teachers to minimise these risks by critically appraise computer games to determine if they are appropriate. 
So there are obvious ethical problems in this regard. 
Inappropriate Content
At this stage in their lives, children are making a strong bond to family and home. Therefore, their skills around e-safety should be developed. The key to this is forming a strong relationship with key adults such as their parents or carers.
Children at this age are more vulnerable to content so their use of ICT should be restricted in terms of what they should access, watch, and play, when and for how long.
Everyone has a role to play in empowering children to be safe while using ICT in their lives.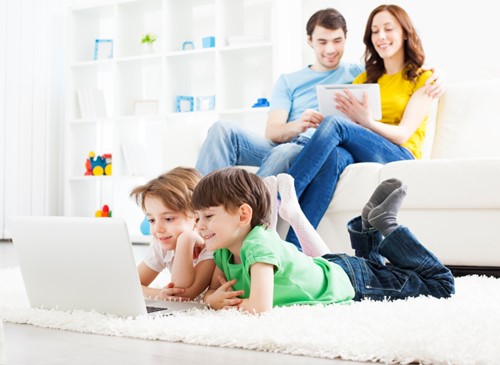 Displacement of other Activities
Computers and ICT can play an important role in young children's education alongside other activities. However, they should never displace them. For example, the use of ICT should not be at the expense of other activities regardless of whether it is inside or outside. Unfortunately, this is what happens when "computer use" is seen in terms of 'drill and practice' programs.
To Learn more about Safety and Ethical concerns with ICT in Preschool, Download the book now.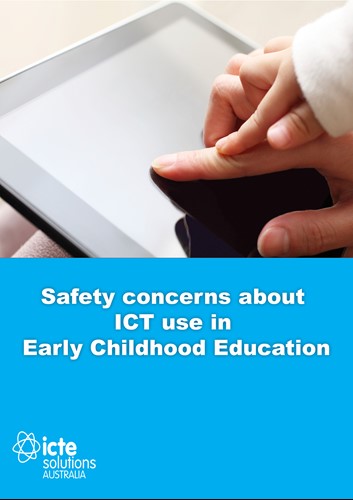 Key Issues in Early Childhood Education
When using ICT in Early Childhood Education there are a number of key issues that need to be addressed. Many of these are beyond the reach of an early learning practitioner such as yourself whilst others are achievable given the time. In the early learning setting, children begin to learn about the ICT around them and start to make critical choices in their decisions. It is the start of their journey towards ICT capability.

The Issue you face
Teacher ICT capability (Hilton et al., 2014) is one of the key issues that early learning practitioners can learn to overcome by investing time in the appropriate training. The first step for you as a teacher is to develop your potential in ICT capability (UNESCO, 2010). As you will be able to see there are other issues related to the availability of ICT. However, none of this matters unless you achieve this goal.
As an early childhood educator, it is vital that you understand that the level of ICT capability a child develops is limited to the level of capabilities that you have in ICT. The important thing to remember though is that you don't have to know everything. In fact, it is better that you don't as you can then model alongside children how to learn about and with ICT, and this shows them how to be a lifelong learner.
Other topics in Early Childhood Education include:
How to develop your potential in ICT capability as an Early Childhood Educator?
Follow these steps in order to ensure that you are on the right path. Let's get started.
Step 1. Familiarise yourself with the Government's requirements
EARLY YEARS LEARNING FRAMEWORK AUSTRALIA
AUSTRALIAN CURRICULUM

Provide children with access to a range of technologies
Integrate technologies into children's play experiences and projects
Teach skills and techniques and encourage children to use technologies to explore
new information and represent their ideas
Encourage collaborative learning about and through technologies between children, and children and educators

ICT capability needs to take account of the types of tasks that provide authentic contexts for learning. The range of tasks is categorised into three sets: Investigating with ICT, Communicating with ICT and Creating with ICT.

Students also need the knowledge and skills to use ICT based on an understanding of the 'nature of the machine'. This is encompassed in the Managing and operating ICT element of the continuum.
Step 2. Develop your competency in ICT
You can achieve this in several ways. First, you can look for high quality sources of information and study them.  Yes, this will cost you time, however, if they have deliver practical and immediately actionable advice on how to proceed it is worth the time doing so. Secondly, you also need to look for examples of good practice.
Before you begin to promote professional development in ICT to your staff, you first need to consider your own training needs. Today, you would be surprised just how beneficial accredited online courses can be to your early learning centre. Research has shown (Ministry of Education, 2004) that one of the conditions for the effective professional development in ICT for Early Childhood Educators is to have it take place in the working classroom. Online course allows you to learn anytime, anyplace and anywhere and most like face-to-face workshops, they are really only as good when you employ the strategies it introduces to you and you come back to reflect on them.
Your online professional development should also:
Involve small group collaborations between teachers and be linked to educational theory.
Be aligned with the Australian Professional Standards for Teachers.
Provide opportunities to experiment and reflect on these;
Involve learning ICT integration skills and;
Build on your knowledge and understanding of ICT integration practices.
Key issues in using ICT in Early Childhood Education
OTHER KEY ISSUES INCLUDE:
Harmful physical effects due to prolonged computer use;
Negative impacts on social development;
Educational concerns such as interference of cognitive development;
Exposure to inappropriate content and;
Concerns that computer use may displace other learning and play activities;
Teacher's personal skills and abilities in ICT;
Availability of ICT in the classroom;
The ICT support provided such as maintenance and training;
Cohort of children and their access and prior experiences with ICT;
Wider influences such as education authority policies and government funding.
Step 3. Classify your position
In order for you to achieve this, you need to ask yourself the following questions:
Who is the initiator of this process and why?
What are your goals? Which curriculum do you prefer?
Which categories of ICT do you use – do you use only one or two technologies (e.g. computer and digital camera, computer and educational software, floor turtle or so)? Do you realize that ICT is a broad concept, which gives us many different possibilities and opportunities for new experience for complex development of your children?
How do you use these ICTs to support learning and play processes – do you use ICT as an additional and optional entertainment for children or do you integrate it in your planned process as a tool for achieving your goals?
What kind of teachers do you have at your disposal, what level of ICT competency do they have, what is your level? How many of them and to what extent are they prepared and motivated to learn, discuss, discover, and innovate – are you able to create the atmosphere of the learning community in your centre?
Who will support you – budgetary or parental assistance, support from education authorities, government ICT policy, etc.?
What does your centre use the ICT technologies for (apart from administration) – mainly for and with children to support their learning processes or to support the children with special educational needs, to develop and plan activities, to analyse, to create e-portfolios of the children, to communicate with parents?
How do you analyse, evaluate and further project this process – how much attention do you pay to the reflection of your situation, to the reflection of the development of your pupils in the context of using ICT, in the context of their development in social, physical, intellectual, creative and emotional domains, which instruments (internal or external) do you use?
(UNESCO Institute for Information Technologies in Education, 2018)
Step 4. Set your goals
Keep your goals and strategies simple and flexible. Remember to think about the areas of learning, play and development and how to support their development with ICT.
Step 5. Promote online professional development in ICT to your staff
As with your own professional development, evaluate the actual level of teacher competency in ICT of your staff. Then in the context of Early Childhood Education, look for programmes that develop teacher ICT capability such as:
Initial computer skills programmes;
Study programs aimed at broader ICT competencies;
Advanced development programmes and;
(UNESCO Institute for Information Technologies in Education, 2018)
Step 6. Integrate ICT and observe and reflect on its use
Begin ICT integration using simple activities and then when you are more confident, increase your range of ICT activities for the students.
During this time, observe and monitor their use of ICT in the classroom. Reflect on your teaching and learning of ICT by using a set of questions to evaluate the learning experiences for children.
Final Note
Before you consider any of the other key issues in relation to ICT in Early Childhood Education you must take a good look at your own capabilities in ICT. This does build the foundation for you to overcome the other issues as it prepares you and your colleagues first with strategic knowledge and expertise in ICT integration. After all, there is no point buying and filling up the learning environment with ICT equipment if no one knows how to use it. Remember, you don't have to know everything. You can demonstrate how to be a lifelong learner to children too. And being an ICT capable educator really means developing understanding and judgement about how to use those ICT skills appropriately. Just like the children themselves!
Completing this course will contribute to 5 hours of PD addressing 2.6.2, 3.2.2 and 5.1.2 of Australian Professional Standards for Teachers towards maintaining Proficient teacher Accreditation in ACT, NSW, Vic and Qld.