In the 21st century classroom, teachers are continually being challenged to integrate ICT into the traditional aspects of literacy instruction. They also face obstacles in their quest to engage students in the emerging technological literacies.
Have you ever asked these questions?
What is purpose-driven, effective literacy-ICT integration?
How do we most effectively integrate ICT into the literacy curriculum?
How can we effectively meet the needs of all learners with ICT integration in literacy activities?
In what ways can reflective practice and ongoing assessment specific to ICT integration inform instruction?
How can I foster communication and collaboration among teachers at all levels?
These are the key issues that many of your colleagues have been asking and is at the very heart of literacy-ICT integration today.
Learn more here: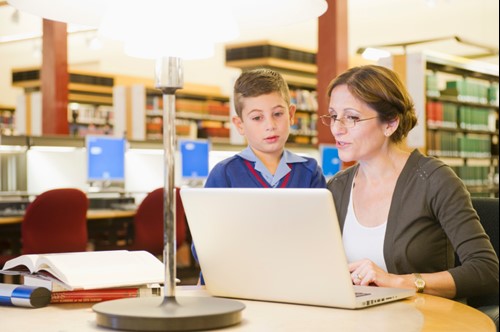 What is Literacy-ICT Integration?
To be an effective literacy-ICT integrator requires you to focus more on the teaching strategies for learning about new technologies than on the ICTs themselves. It means being able to conceptualise the role of technology within current understandings of literacy and literacy instruction.
Every day, you as a teacher expect your students to use some type of ICT to complete an assignment, homework or classwork. It is for this reason why there are two important aspects of literacy-ICT integration:
Using technology to teach more effectively and enhance the learning of skills and strategies that currently make up a strong reading/language arts curriculum, and;
Effectively teaching and enhancing the learning of skills and strategies that make up the strong reading/language arts curriculum of the future.
(Watts-Taffe & Gwinn, 2007, p. 18)
Literacy-ICT integration is about knowing when and how to use these new literacies that we already integrate into our own lives in a constructive way in the classroom.
The Importance of accredited professional development
Those teachers who are effective in their literacy-ICT integration have taken a proactive approach to learning and seek authentic professional development experiences. They become the change agents in their school actively seeking out and maintaining high-quality instructional practice.
According to research, these teachers seek more than the acquisition of new technology skills from PD opportunities. The professional development acquired encompassed key information and conversations and encouraged teachers to think about what those ICT skills mean for reading and writing development.
Ongoing professional development is now of utmost importance to you as a literacy educator as the nature of technology continually changes. Your role as a teacher becomes more important as new technologies become more central to the everyday literacy instruction.
In Australia, accredited professional development ensures you as a teacher of quality professional development which is aligned with the Australian Professional Standards for Teachers. However, whilst there are sufficient literacy opportunities there has tended to be minimal effort towards literacy-ICT integration teacher PDs. There are two main accreditation organisations currently – Teacher Quality Institute (TQI) and NSW Education Standards Authority (NESA).
If you want find out more about literacy-ICT integration and how you can be effective in your literacy instruction, then follow this link.
Online Course Objective
You will learn how to enhance literacy in your curriculum with ICT by implementing sound literacy-ICT teaching strategies boosted by teacher competence, clear goals and the development of purposeful and meaningful Literacy-ICT activities. In addition, you will gain the expertise you need in order to develop 21st century skills in your classroom practices as you collaborate and reflect on your learning experiences.
Completing this online course will contribute to 5 hours of TQI registered PD addressing 2.5.2, 2.6.2 and 3.4.2 of Australian Professional Standards for Teachers towards maintaining Proficient Teacher accreditation in the ACT.