The use to technology in the classroom has taken particular emphasis in the primary learning areas. Within the Australian Curriculum, integrating digital technology to use in the classroom is recognised as ICT capability.
ICT capability is more than just the teaching of ICT skills or techniques and this is something that requires evidence based ICT teaching strategies.
LEARN ALSO ABOUT:
How to choose the right technology in the classroom
There are different types of technology to use in the classroom. However, they all have the following characteristics:
Content-free;
Challenge students intellectually;
Enable transferrable ICT techniques;
Involve a high degree of higher order thinking skills and;
Students have full control over the technology.
This may involve systems that are either hardware or software, however, in primary education ICT tools to use in the classroom refers mainly to the software.
Below is a list of ICT tools and resources that best fits this criterion:
Word processors;
Desktop publishers;
Spreadsheets;
Databases;
Email;
Web design and creating;
Graphics programs such drawing and painting programs;
Coding programs such as Scratch Jnr;
Graphing programs;
The Internet (information literacy skills);
Digital cameras;
Animation software;
Interactive whiteboards.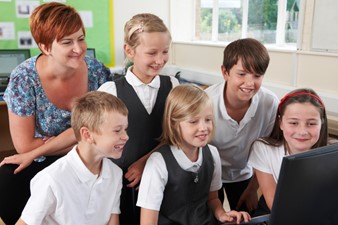 Teacher ICT Capability
For you as a teacher, ICT capability is similar to that of a student in that it is not just about acquiring ICT skills but developing an understanding and judgement about how to use those ICT skills appropriately.
Here is an example that explains how being an ICT capable can help you decide when to use technology in the classroom.
If you know how to use PowerPoint, then you know that it great for creating presentations for lessons that you teach.
You may create a PowerPoint for every lesson, however, this would be rather missing the point about when to use technology in the classroom.
You need to decide as a teacher when such a presentation is an effective use of the technology in the classroom (in terms of what possibilities PowerPoint may offer and how can you present information with it).
As a teacher, you need to make a judgement about the class or group of students that you are teaching.
Decisions such as:
You have used a similar presentation on the previous day;
There is a danger that the students will not find your presentation so compelling;
It may be that you are teaching young children who may enjoy presentations, but not learn as much of the content.
You need to decide why this would be better than other teaching techniques.
Other reasons to help you decide when to use technology in the classroom have to do with the way that ICT can improve education in the classroom such as:
Improve efficiency and pace – technology in the classroom enables more effective collation of materials, speedier record keeping, automated submission of homework and greater opportunities for students to solve problems with ICT solutions.
Provide resources and structure to support learning independently of the teacher – technology in the classroom can provide a varying degree of structure to their learning strategies and resources to support their learning without requiring your help as a teacher.
Provide experiences for learners which it would be hard to achieve in other ways – the use of technology in the classroom enables more authentic learning experiences.
Improve the quality of task outcomes for students – the provisionality that technology in the classroom brings allows students to undertake several stages of redrafting and reconstructing their work.
Make higher order thinking skills more feasible – the effective use of technology in the classroom calls for more decision making by the students.
Encourage reflection – as higher order thinking skills are used, students can reflect on their ICT learning. This process of reflection can be achieved in many ways – questioning, discussion, summarising and explaining to others.
Facilitate differentiation – technology can facilitate differentiated instruction in many ways.
What technology to use in the classroom will depend on the reasons you choose to use it for. The above will stand as a foundation for your foundation of the decision made, however, technology in the classroom should always support subject learning and remain transparent in the background whilst developing student ICT capability.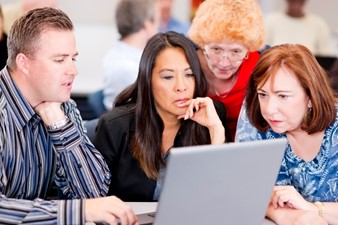 Embedding High Impact Teaching Strategies
The development of ICT capability should be something that you teach alongside meaningful contexts such as literacy. If you want to learn how to use technology in the classroom it is best to ensure that the following ICT teaching strategies are understood:
Understand how students learn with ICT – this lays the foundation to your ability to integrate technology in the classroom effectively;
Optimise opportunities for development – choose the right areas in curriculum to integrate technology in the classroom and develop ICT capability;
Practice instructional decision making – employ classroom practices that will help you make the most of the technology that is available in your classroom;
Initiate a whole school approach – technology in the classroom can have a tremendous impact on student learning if other staff members employ the same strategies;
Select the appropriate ICT tools and resources – delve further into each of these ICT tools listed above and discover where your strengths are;
Facilitate capabilities – there is more to ICT capability than just teaching of ICT skills.
To learn more about how to use technology in the classroom that develops ICT capability, follow this link.
Through online workshops for primary teachers, you will be ensured of teacher quality content that makes it easy for you to effectively integrate technology in the classroom today.
Completing this workshop will contribute to 4 hours of NESA and TQI PD addressing 2.6.2 and 3.4.2 of APST towards maintaining Proficient Teacher Accreditation in NSW, Qld, Vic, and ACT.