Being an ICT Capable Early Childhood Teacher is NOT about knowing everything about ICT or even about acquiring ICT skills. It is about developing an understanding and judgement about how to use those skills appropriately.
Course Audience
This course is ideal for Early Childhood Teachers, Preschool teachers, Kindergarten teachers and even Year 1 and  2 Primary teachers (Early Stage 1, Stage 1, Stage 2 and 3).
This course is designed to help you effectively integrate digital technologies or ICT in the Early Childhood curriculum and develop ICT capability with children so that you can make informed decisions about ICT and be conscious of the kinds of learning interactions you would like to occur in the context of ICT and adopt ICT pedagogical strategies to support these.
My course helps Early Childhood Educators learn how to integrate digital technologies/ICT into their curriculum and help children make a smooth transition in progression of their capabilities in ICT so that they can effectively build on these throughout their education and be proficient users of ICT in their lives.
It also aims to promote the advancement of ICT capability in early childhood education before children begin school.

Why enrol in this course today?
Regardless of what national curriculum you teach, the Australian Curriculum, for example, recognises the progression of ICT capability particularly throughout Primary Education and through into Secondary Education. For progression to naturally occur for children, Early Childhood Educators must lay solid foundations of ICT capability in the early stages of learning.
Other reasons include:
Enable you to facilitate capabilities in ICT for children.
Build own teacher competency in ICT.
Maximise the use of ICT in your Early Childhood Centre.
Today, many Early Childhood Teachers face similar problems to you. These are:
Limited training opportunities in ICT;
Insufficient equipment or funds;
Lack of time to develop ICT integrated teaching and learning activities;
ICT competency;
Lack of confidence using the equipment;
Lack of knowledge of how to evaluate the role of ICT in Early Childhood settings.

What are the consequences of inaction?
Lack of progression in capabilities as a result of mediocre teaching;
Children lagging behind in primary training where ICT capability predominantly encouraged to be taught as a General Capability;
Children are not able to metacognitively achieve ICT activities. They fail to understand and know what they know;
Disjointed ECE curriculum from the Primary K-2 curriculum.
What is the desired result?
Children progress effectively and efficiently in their capabilities in ICT.
Children have an easier and smooth transition into the Primary education.
Children are ICT Capable - They have the solution to construct ICT solutions to problems that are appropriate to the context and are based on the knowledge of the opportunities and limitations of the systems available.
Children become proficient users of ICT in an ICT-integrated society.
Click below for a 5 minute Free Preview
What are the different ICT competencies for ECTs?
Research shows that there are three educational paths which you can take or may be on (UNESCO,2010):
Discovering ICT
Learning with ICT
Integrating ICT
Build and develop basic
computer competencies,
committed to "local"
personal skills (i.e., bound
to one's own computer,
learning to utilize it
offline, outside the virtual
world).
Apply one's basic computer
competencies to profit
from the digital world,
digital communities and
communication within
them. Learn to exploit ICT
to communicate with other
teachers and educators
(within and outside the
centre) in order to share
successes and problems,
discuss and exchange
experience and learn more.
Utilize one's emergent
digital literacy to integrate
new technologies and new
pedagogies into everyday
life of the ECE centre, into
the learning processes
of children in the most
efficient, attractive, safe
and productive way.
This Early Childhood Education online course focuses on PEDAGOGY OF ICT (Integrating ICT)
Teachers should be able to:
plan and monitor the development of children in using ICT to express themselves, for learning and play.
exploit ICT in support of most or all of teaching and developmental goals.
understand the role of ICT in modern early childhood education; 
know their potential for the personal development of ECE children and for the professional lifelong development of ECE
teachers.
Content will focus on:
Pedagogy of the educational software applications;
Analysis and evaluation of the appropriateness of various ICTs for ECE;
Development of personality and competencies of an ECE child with the support of ICT;
How to project, implement, observe, assess and evaluate the progress of children in exploiting ICT for their learning and play.
My course will give attention to the potential of ICT for humanization of education, for personal development of children and their competencies, but also for the professional development of teachers.
Early Childhood Teacher Takeaways
By enrolling in this course, you will be able to:
Understand the role that ICT plays in Early Childhood Education;
Maximise formative assessment strategies in ICT activities, tasks and projects;
Select the appropriate digital technologies for learning;
Employ evidence based ICT teaching strategies in early childhood learning environments;
Facilitate the progression of child ICT capability in learning throughout key learning areas;
Integrate ICT effectively in STEM projects
Practice inclusion with ICT in ECE and;
Reflect on your teaching and learning with ICT.

What people are saying about our courses?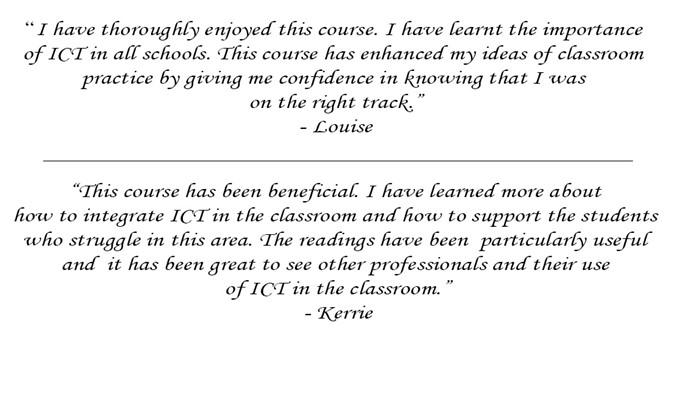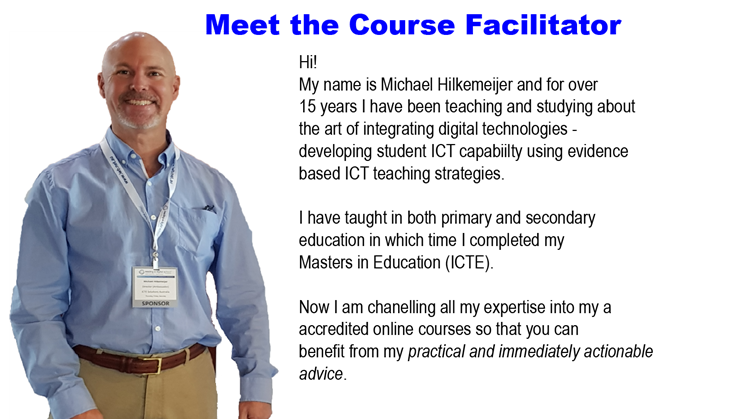 Course Cost: $95
Completing this course will contribute to 5 hours of PD addressing 4.5.2, 2.6.2 and 5.1.2 of the Australian Professional Standards for Teachers towards maintaining Proficient teacher accreditation in Victoria, NSW, QLD and the ACT.