The world as we all know has been changed with the Covid-19 pandemic putting us all into self-isolation for an uncertain amount of time.
For us as teachers, it means leaving our beloved classrooms and schools and learning to teach online for the first time.
It means spending time away from your colleagues who you would normally collaborate and share ideas with throughout your working day. Professional learning community for teachers such as this will no doubt struggle to thrive at times.
What are the benefits of a professional learning community for teachers?
There are four key benefits of a PLC which all teachers can gain from and include:
Allow teachers to directly improve teaching and learning.
It can build stronger relationships between team members.
Helps teachers stay on top of new research and technology tools.
Helps teachers reflect on classroom practices.
The Online Alternative
Whilst being away from your school and classroom can take a toll, however, an online professional learning community for teachers can be of much help and reduce stress
The key attributes which you will find include:
Supportive and shared leadership,
Collective creativity,
Shared values and vision,
Supportive conditions, and
Shared personal practice.
Finding yourself in an online PD workshop environment can amplify professional learning for you as it would constitute of colleagues from around the world.
An effective online PLC has 10 things which can make them as a strong point of community during these times.
Embodied in accredited online PD workshops are such characteristics.
Teacher professional development workshops will be effective as they:
Involve small-group collaborations between teachers;
Build on teachers' existing knowledge about curriculum and practice;
Are based on a specific project that teachers plan to implement in their own classroom;
Provide time and opportunities to experiment and reflect on new experiences; and
Involve learning ICT skills on a "need to know" basis.
Small group collaboration between teachers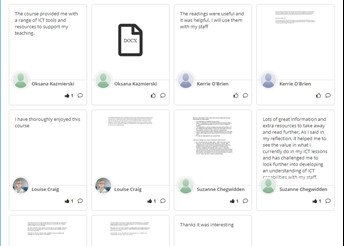 Our Teacher PD Workshops reflect educational theory on:
ALL TEACHER PD WORKSHOPS ARE NOW $40!