In the 21st century, more Australian teachers are turning to online PD courses for teachers in early childhood education and care.
Why?
It is no secret that Australian teachers have fewer PD days each year than in many other nations so this is one way that they can fill the gap. They have only half the number – 15 days – reported by teachers in other countries.
So how do you find the right online PD for early childhood educators in ICT?
Most online PD courses for teachers are self-paced and can be taken whenever you want to take them. One of the best places for this to occur is the learning environment itself.
However, for the sake of it, let's compare the advantages and disadvantages of online vs full day training for Early Childhood Educators.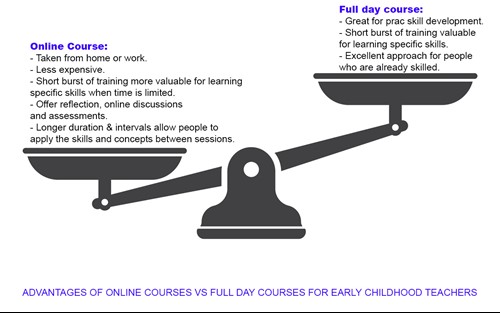 In my opinion, the best advantage that online professional development can offer early childhood educators is that it puts the student first. By this, of course, I mean the participating teacher.
They are able to focus their attention of pedagogical functionality.
Though more than just having the advantage of having access to it, which by and far is the way of the future, teachers can apply the theory they have learnt as they continue through the course.
Early Childhood teachers can tap into constant learning by embracing the real world and authentic application of the theory.
What about disadvantages?
At first glance, the scales look evenly balanced however, when you the examine the disadvantages of the full day course it is possible to see when compared to that of online PD courses for teachers in Early Childhood Education and Care, that there is a lot more heavier weight in terms of practicality and stress in it.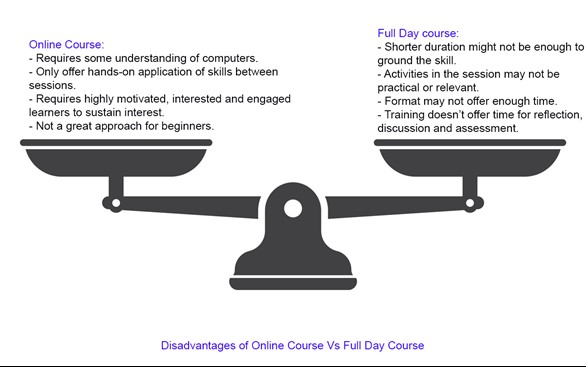 Regardless of the level or intensity of the type of professional development you might choose, you still can apply what you have learned through your training.
In the end, it is up to you to carry out the application of the learning and ensuring that you spend time to evaluate them and reflect on its use in the classroom.