Are you an Australian Primary Teacher?
You'll love our new range of teaching resources that will help show your school your commitment to achieving its goals in ICT integration. Australian Curriculum Connect are lesson plans that flow direct from the Above Satisfactory work sample portfolio examples in both the English and Mathematics Curriculums making ICT integration in literacy and numeracy development a breeze. Integrating ICT into teaching and learning is not straightforward so we have included key

 

teaching strategies
 

in a practical and immediately actionable way that will save you time. Furthermore, these teacher-tested strategies can be implemented throughout the entire curriculum.

  
The literacy and numeracy teaching resources will help you to:
Make curriculum links to your work programs;
Capitalise on the use of ICT in literacy and numeracy development;
Increase student attainment levels in student ICT skills;
Improve literacy and numeracy development;
Optimise the use of available technology and;
Save you time in lesson preparation.
 WATCH THE VIDEO TO SEE HOW IT CAN HELP YOU!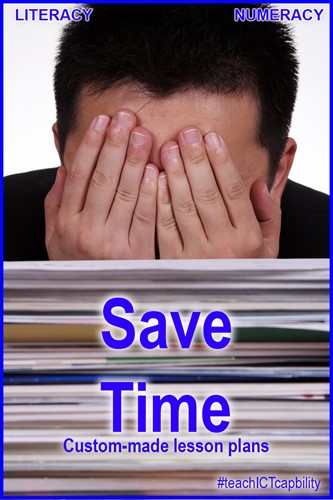 It's time to stand out from amongst your colleagues as a great ICT integrator today!!!!