Why integrate technology into teaching and learning?
In a technology-rich early learning environment, integrating technology in early childhood education and care is important for 3 reasons:
Children enter early learning environments with a varying degree of ICT capability and ICT literacy about them. You need to build on this by planning for effective learning progression in ICT.
Children should find out and identify the uses of technology in their everyday lives.
An integrated approach to ICT will enable children to recognise ICT products as tools which are designed for a particular purpose.
When it comes to integrating ICT in early childhood education and care, the term 'ICT' has a broad meaning within the setting.
In fact, it is often referred to as 'technology' and this is not strictly accurate as technology in early childhood means far more than just digital technology.
It is a more user-friendly term though! So at times I might use them interchangeably.
Your knowledge as an early childhood teacher is crucial to the imaginative application of technology throughout the curriculum and the learning situation.
LEARN ALSO ABOUT:
11 Ways to Plan for the Integration of Technology in ECE
7 Ideas for Effective use of Tech in Pre-K and Kindergarten
Recycle donated old technology in role play
There is so much old tech out there not being used. My wife has an old smartphone sitting around and somewhere there is an unused laptop.
Reuse, recycle and save money! However, make sure that it is not too old tech otherwise it would be difficult to integrate it into the learning environment.
It could be tech that does or doesn't work. An old cordless phone will work wonders for a young child with an imagination.
Place them into the role play boxes and observe their learning experiences.
Model the effective use of tech in early learning settings
Whether it may be a cassette recorder or something else, you need to model uses and scaffold children's learning for children to be able to use the technology independently on their own.
Young children need to be taught the skills of using ICT tools in their learning.
You could model the use of an art program like MS Paint and teach children how to use each of the tools according to their own levels of competence and interest.
Model the art software yourself, for example, and make a repeat pattern and print it out for wrapping paper.
Another way to accomplish this would be to show children exactly where to find a piece of technology particularly if it is located inside.
Digital cameras need to be modelled for a particular purpose, safely. You will need to talk through your actions so children know why and how you are using the camera.
Model your behaviours with technology use when you are engaged in role plays with them and become a positive role model for them.
Use ICT for Outdoor activities
Outdoors can provide many learning activities and opportunities for young children.
Through the use of mobile technology you can combine the two.
It is great for encouraging independent use of technology and children can capitalise on their capabilities in ICT when they use devices such as iPads (or other tablet computers), stand-alone cameras or even smart phones with digital cameras.
Don't forget, they can also use recording software with these mobile technologies which they can use to record their own experiences outside.
There are also apps which allow kids to allow children to narrate with their images and this adds a verbal language component to the activity.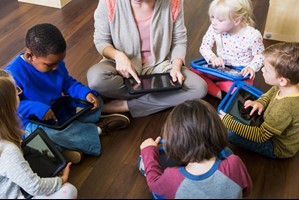 Develop language and communication skills with technology
ICT has a natural ability to bring young children together around it. Whether it be a desktop computer or an iPad, it is a tremendous opportunity for you to encourage the development of these skills.
When young children do come together there is the chance that they will collaborate on activities and this means that they will also discuss and share ideas.
In the early years setting this works wonders and brings with it many opportunities for literacy and language development in early childhood education and care.
Promote creativity with technology
Creativity is given its own special area within early childhood education and care.
Children can take photographs of their role playing experiences or you can do this yourself.
It is important that you remember that young children need your support to spark creativity so bear in mind that this requires you giving children time to be creative, freedom to be creative, support in developing their creativity and skills, the choice to choose from a range of creative ICT tools and of course, inspiration.
Creative ideas can come from using video cameras, scanners, programmable toys and art software itself.
You could take photo with a digital camera, open it in a paint program (MS Paint etc) and paint over the top of it!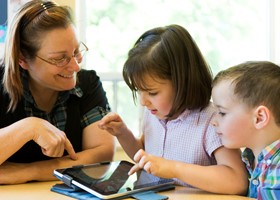 Integrate technology into STEM projects
Technology is like the glue which combines and adheres all other subjects like science, maths and engineering.
Incorporate it by using ICT-assisted project-based learning and understanding its value in inquiry based lessons.
You mustn't forget there is also many science activities for young children. If you choose to use one, remember that they need to develop science thinking which includes observing, describing, recording and watching for change.
In relation to maths or numeracy, you will need to look for added features that engage children, provide variety and have the ability to increase the level of challenges to ensure that learning progression occurs.
Plan for literacy and language development with ICT
Already I have mentioned how collaboration can promote the these skills with young children. However, you can also plan ICT activities which will do the same.
Many programs which we use as adults are overlooked as being suitable for young children, yet it are these which you need to provide young children with support in their use.
Word processors is just one of these and the most widely available is MS Word. Such programs are closely linked to literacy and language development as they allow young children to type and retype their work.
Editing is a great skill to have in relation to this and it provides them the opportunity to learn from their spelling mistakes.