The use of ICT tools in the classroom for teaching and learning can bring with it many benefits for students. All the benefits which you bring with its use comes from how you scaffold and support the use of ICT tools within meaningful context-driven activities.
Your aim as a primary teacher should be to facilitate the development of ICT capability alongside meaningful context. Children need to reach the stage where the ICT tools they are using are sufficiently 'transparent' that they are vaguely unaware of its existence.
This is why it is so important for you to define clear learning objectives with ICT activities. Are you going to use ICT tools to:
Support the subject learning?
To develop ICT capability?
Or both?
I think that regardless of what curriculum you teach, it needs to be both. Why shouldn't it be? Especially, if you are looking at the Australian Curriculum for instance, where ICT capability is encouraged in subject learning.
So here are my top teaching strategies for ICT tools used in the classroom.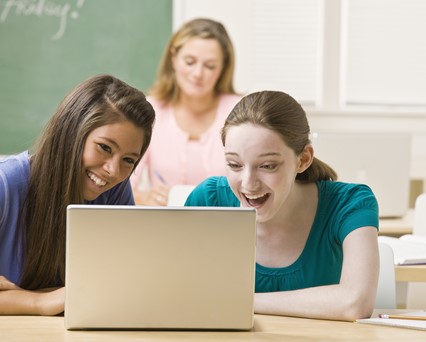 4 Strategies for Teaching with Technology
When teaching and learning with ICT, I recommend using the following strategies:
Optimise opportunities for development
This involves your understanding:
The key ICT skills in primary education;
What you must do to unlock the potential of ICT tools used in classroom teaching.
In order to optimise opportunities, you also need to learn about developing ICT capability with the ICT tools used in classroom teaching. Take a closer look at:
Routines.
Techniques.
Concepts and processes.
Higher order thinking skills.
Then undergo activities that will help you to develop purposeful ICT activities in meaningful contexts.
Develop the ICT capable classroom
Within this module, I discuss how to improve teaching practices in the classroom? The aim of any primary teacher should be to enable students to use ICT tools used in classroom teaching to the extent that they are unaware of its existence.
The use of ICT should be that it is transparent in the background whilst the student is using it as a tool for learning.
Research shows, that teachers should know:
When to use ICT;
When to intervene;
How to avoid misconceptions;
Identifying further opportunities for learning progression;
How motivate students for progress;
Best practices for analysing the situation and;
Why they need to reflect on their teaching and learning with ICT.
A Whole School approach
If the use of ICT tools used in classroom teaching is to be truly effective then a whole school approach needs to take place. Why? Simply, as I believe that all primary teachers should aim to develop ICT capability alongside meaningful context such as literacy teaching.
ICT has so much potential to offer literacy learning in primary school. As literacy is a key focus for teachers, developing a whole school approach to this in this context would go a long way. However, you need to:
Understand how the sharing of perspectives would benefit the process;
Discuss with staff what progression and continuity in ICT capability is all about;
Manage student transitions effectively;
Solve any discontinuity;
Conduct teacher liaisons with colleagues at other schools.
Facilitate Capabilities in ICT
When exposure to ICT tools used in classroom teaching is not simply enough to develop 21st century skills, it is time teachers learn the best teaching practices such as:
How to provide structure and stimulate learning;
Providing support;
Grouping students appropriately so as not generate further issues;
Developing ICT capability components with ease in classroom learning.
It is best that when choosing ICT tools to use in the classroom that they:
Encourage a high level of decision making by the students.
Are content free.
Challenge students intellectually.
These are the criteria that I base my decisions on myself.
To learn more about these strategies, click the button below, and discover how you can make use of the available ICT tools used in your classroom today.